About us
Thailand division of International Academy of Pathology, one of the oldest national divisions, was established in 1959 largely by the effort of Drs. Pradit Tansurat and Paul D. Rosahn. Our mission is to advance knowledge and practice of pathology. We have organized educational programs in form of lectures, seminars and international exchange program for young pathologists.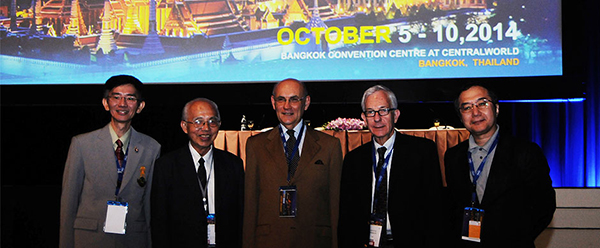 Mission Statement
The IAP is dedicated to the advancement of Pathology through educational exchanges worldwide. In order to achieve this mission, the academy will:
Serve as an international pathology organization that coordinates activities of its divisions and encourages the formation of new divisions where appropriate.
Convene an international congress each biennium providing educational programs to advance pathology education, research and practice.
Provide access to highest quality pathology education worldwide through lectures and seminars, educational grants, international congresses and teaching materials - accessible through its Divisions.
Encourage strategic placement of international congresses to promote access to advanced Pathology Education in underserved areas.
Objectives
The purpose of the Academy will be the advancement of pathology through:
Improvement of methods of teaching pathology in medical schools, laboratories, hospitals and medical museums.
Coordination of anatomic pathology, pathologic physiology and comparative pathology with allied sciences and techniques
Promotion of research in pathology and pathologic techniques
The formation of national or larger geographic Divisions and Assemblies
Publication of journals and reports that will afford media, including electronic, for dissemination of the results of work in the above fields
Convening of meetings and congresses for exchange of scientific information and ideas
Committee Members (2022 - 2025)
President
Monchanok Suvichanvorasin, MD
Past President
Somboon Keelawat, MD
Vice President
Tawatchai Pongpruttipan, MD
Secretary
Shanop Shuangshoti, MD
Treasurer
Ubolrat Hatajich, MD
Committee
Natkrita Pohthipornthawat, MD
Tauangtham Anekpuritanang, MD
Chetana Ruangpratheep, MD
Samasuk Thammachantha, MD
Supasan Sripodok, MD
Thiyaphat Laohawetwanit, MD
Naree Warnnissorn, MD