The 62nd IAP-Thailand Annual Meeting 2023
The annual pathological academic meeting which organized by IAP-Thailand Division. The meeting objectives are to create and promote knowledge for local as well as international pathologists. All academic sessions will be conducted in English. We are very welcome for all audiences over the world. Online registration and payment will be open on July 1st - October 24th, 2023.
Welcome Message from President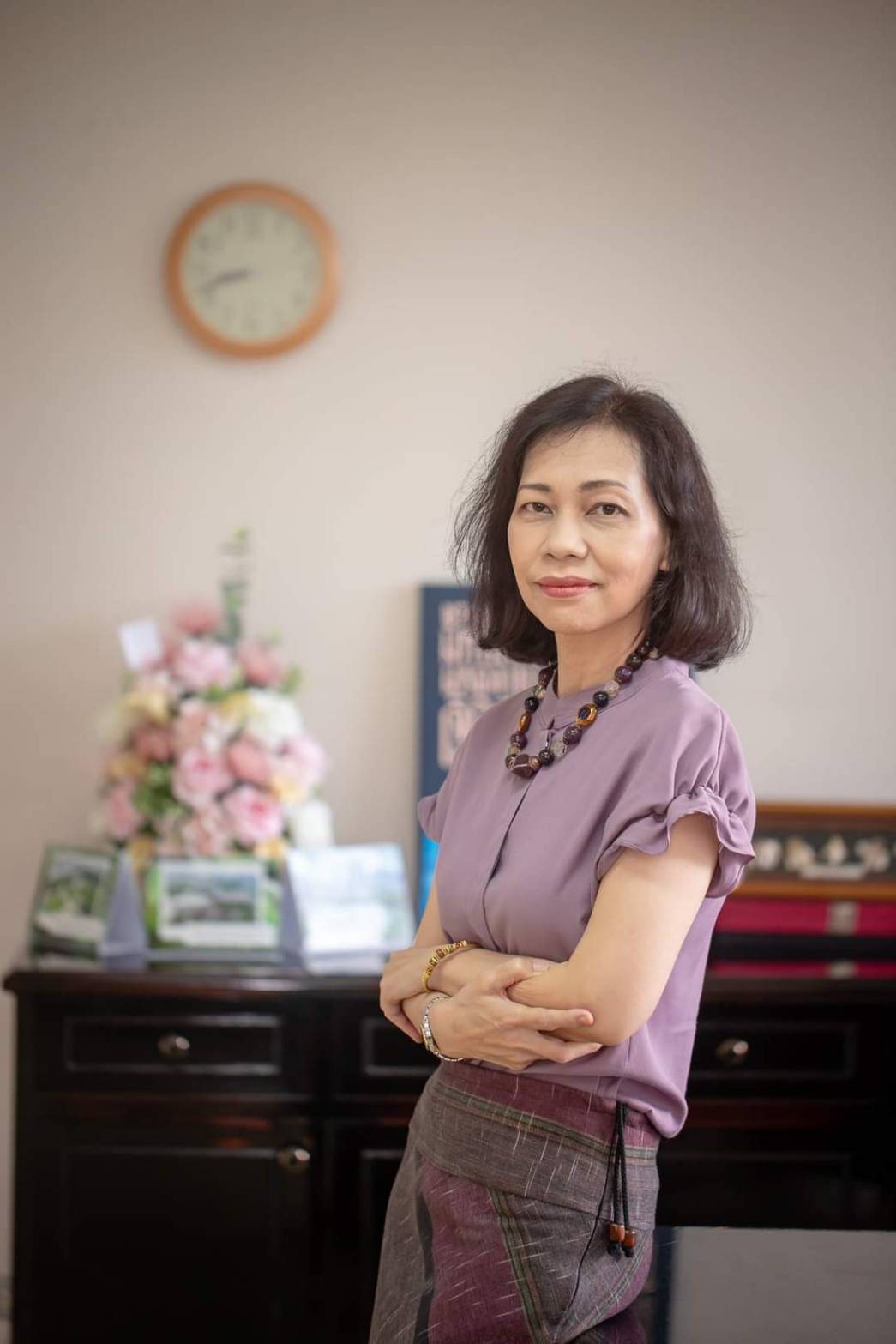 Dear Colleagues,
Welcome to the 62nd annual meeting of IAP Thailand. After three years of COVID-19 pandemic had resolved, we are ready to meet you in person. The meeting will be held at Centara Grand Ladprao, Bangkok on November 8-10th 2023. Our academic program is carefully set up for international participants. And, as usual, we provide several bursaries for low-income countries. The lecture presentations will be available on demand after the meeting.
Bangkok is always a city of angel and beautiful in November. Amazing check-in places and delicious foods are waiting for your visit. Moreover, travelling to Thailand does not require Covid-19 test or quarantine anymore. We encourage you to register, join us, and leave time to enjoy the many extras that Bangkok has to offer.
With your participation we are looking forward to another successful meeting.
Best Regards,
Monchanok Suvichanvorasin, MD.
President of the International Academy of Pathology, Thailand Division
Scientific Program
The scientific program will be updated soon.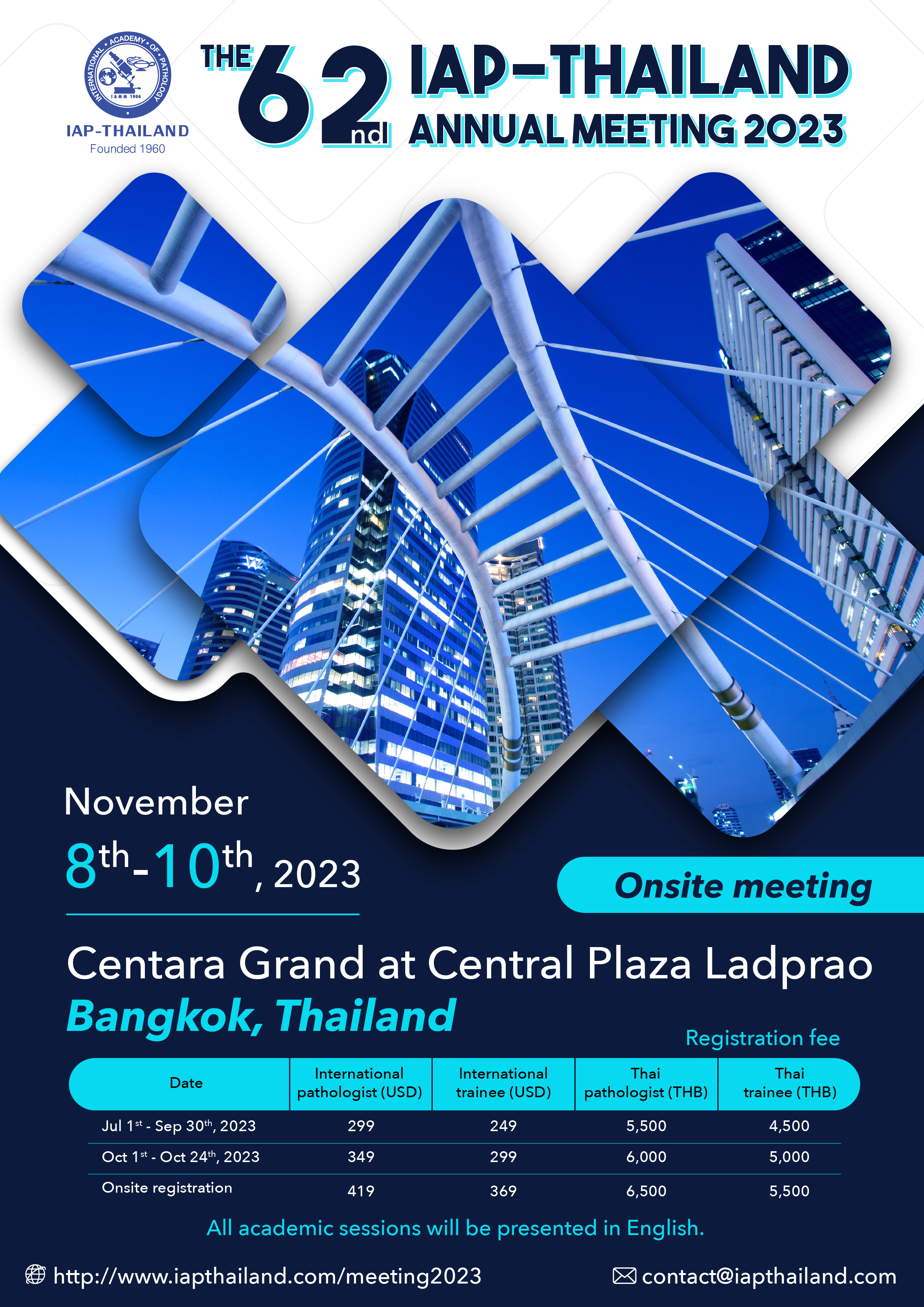 Registration
The registration fee depends on the date of payment, not the date of online registration. Thai and international trainees are requested to show approval letter of trainee status from institution. Online registration and payment will be open on July 1st - October 24th, 2023. Credit card payment is welcome for all registrants.
Oral and Poster presentation
Abstract submission
1. Abstract submission period for the IAP-Thailand Annual Meeting 2023 is available from July 1st - 31st, 2023.
2. Please use the provided template for abstract (click here to download). The abstract must be arranged in constructed fashion including title, background, method, results, and conclusion, and should not exceed 250 words. The language must be in English. Symbols are allowed to be used.
3. There is no limit to the number of abstracts that can be submitted. However, an author may present no more than one abstract. The IAP-Thailand committee reserves the rights to choose the abstract to be presented in the meeting.
4. The abstract must be submitted to presentation@iapthailand.com. Once the abstract has been submitted, no changes or corrections will be accepted.
5. Acceptance/Rejection will be sent via e-mail before September 30th, 2023.
6. After acceptance of the abstract, the author must register to the meeting.
7. On the date of submission, the abstract must not have been published elsewhere.
Guideline for Oral presentation
1. Time for presentation must not exceed 10 minutes for each presenter, including Q&A.
2. Presentation period is scheduled on afternoon of November 8-10th, 2023.
3. Language: Presentations must be conducted in English only.
Guideline for E-poster preparation
1. Format: PowerPoint. The author must use the provided template from IAP-Thailand (click here to download).
2. Heading: The poster title, Authors, Co-authors, institution, institution logo, and country should be placed at the top of the poster.
3. Language: English only
More information for the presentation submission: Please send an e-mail to presentation@iapthailand.com
Grant for the 62nd IAP-Thailand Annual Meeting 2023
Terms and conditions
1. The applicants must be pathologists or pathology residents of non-Thai nationalities who currently work/study outside of Thailand. Thus, anyone from any countries except Thai are welcome.
2. The selected applicants will be granted for financial sponsorship, 10,000 THB per person as well as registration fee exemption.
3. The applicants who were granted a financial sponsorship from the previous year are not eligible for this year application.
4. The applicants are obliged to contribute at least one academic presentation in any available sessions e.g. oral or poster presentation of the IAP Annual Meeting 2023.
5. The application forms must be submitted along with the academic abstracts to presentation@iapthailand.com within the period of 1 July - 31 August 2023. Please ask for the application form from info@iapthailand.com
6. The grants will be provided only to the applicants whose submitted abstracts are approved by the IAP Thailand committee.
7. IAP Thailand committee reserves full legitimation in granting sponsorship up to 5 most eligible applicants. The decision of the committee is final.
More information: Please send an e-mail to contact@iapthailand.com